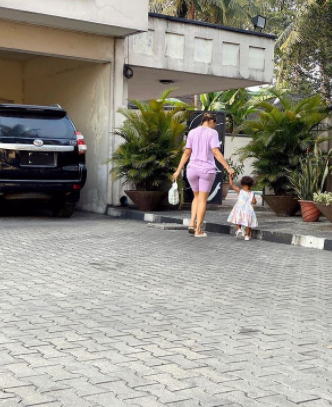 Former model, Sarah Ofili-Adukeh, has come out to encourage other mothers in waiting as she shared the sad story of how she was pregnant with a set of twins, a boy, and a girl, but lost the pregnancy one month after her traditional wedding.
 Sarah who has since welcomed a baby girl, recounted how she lost her babies and how her husband had to go to the cemetery to bury them. She mentioned that she still cries over the loss and mourns them but takes solace in their daughter. She hopes that her story encourages a mother who is still in pain after losing a child.
She wrote;
''As today ends I have decided to stop calling 29th of Jan the worst day of my life, but now as the day I gained 2 beautiful Angels. I celebrate them! Exactly 3yrs ago, 1 month after our traditional wedding we lost our beautiful set of twins, a boy n a girl.
I remember every pain n sweat and tear... I remember not even worrying about myself but staring at my husband wondering if he wld be ok, after seeing his babies go and still having to support me thru surgery how scary that most have been for him. I remember waking up from surgery n asking for him, I was told how he picked them babies up by himself put them in a box and carried them on his lap in the car all the way to the cemetery. Sat with them till all paper works were done and said goodbye to them on behalf of both of us coz he didn't want me to wake up and deal with all that. All in one day!
To God be the glory we pulled through our first year of marriage with such heartbreak, also still dealing with my mums recovery and my husband losing his own mum...Whew! As I watch my daughter today I can't help but wonder "is this what they would have looked like too?"... how sweet to know she's all in 1! Today we had 2 butterflies around us constantly I thought oh well there they go watching us!
I decided to share this coz when I was depressed n lonely I read other mums stories on IG and they got me thru my days. So maybe there's just 1 mum out there I can console. The memory and questions never go away, I still cry even now as I type this. U will heal slowly but surely. U will smile again when ur rainbow baby comes. Just like a Chinese cracked bowl, d cracks in ur heart will be filled with gold. Stay strong mama! We are all in this together! Also thank you to our men that have been patient through the healing, God bless you hubby! @zsihughez  #alwaysIyaIbeji #miscarriageawareness''