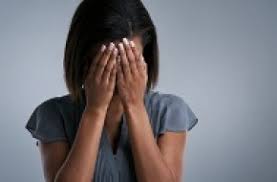 International day for the Elimination of Violence against women.
 
Mary was 30 years old when she found out she was pregnant for her 3 weeks old boyfriend turn baby daddy. After breaking the news to her boyfriend, he was happy and suggested she moved in with him; which wasn't such a bad idea, but ended up being a bad one. 
5 months into her pregnancy, Mary ran to her grandmother's house in the middle of the night for refuge. She was partially naked, what happened? She said her baby daddy beat her for telling him to stop bringing his side chicks to their home. 
The grand ma sent Mary's elder sister to her boyfriend, asking him to come see her as she was too old to walk. He abused the sister and said he has no business with them and said all manner of things.
Few days after, Mary went back to her baby daddy's house and begged him to allow her in the house. 
Althrough her pregnancy, she cooked with firewood, ate swallow morning, afternoon, and night. She didn't have money to register for ante- natal or money to buy babies stuff. The little clothing she had were gifts from families and small savings. 
Families begged her to leave the boyfriend but she refused and insisted all will be well. 
A month to delivery, baby beat her, stripped her naked and chased her out of his house again. What happened? She asked for money to buy baby things. 
Finally, she was went into labour at a local setting, but after days of pushing, she couldn't be delivered of the baby. 
She was referred to a hospital for caesarian. Baby daddy refused to show up, he said girls not up to her age, and giving birth normally, but she couldn't. Mary cried and had bad stomach ache due to hunger.
When he finally showed up, he chased families that came around to take care of Mary. He insisted they leave and face their family.
Whenever baby daddy comes visiting, he brings cold pounded yam and vegetable soup for that just had a surgery.
On the child's naming day, no one knew what transpired, but there was a loud cry for help, when every rushed in, Mary was bleeding from the area where she had her surgery, and also from her eyes. She said he hits her on her stomach, and smatched a glass on her face. 

Another minor surgery was done to close the wound, but Mary lot one of her eyes to violence. 

In Africa, when a woman is abused most especially physical violence, people encourage them to pray and endure till things get better. Violence of never form should never be encouraged. Let the culture of long suffering among abused women stop! 
Dear women, when a man put your life at risk, learn to walk away.